Protection for the entire family
… effective protection from allergy and infections
ReSpimask is your daily life partner for a healthy lifestyle. Are you living in a place where air is full of harmful particles? If yes, then ReSpimask is a must have for you. Designed with latest nanofiber technology, our ReSpimask provides ultimate protection against bacteria, polen, fungi and other harmful particles present in the air. The best thing about our ReSpimask is that it is designed and manufactured with a complex structure of nanofiber membrane. It does not include any kind of chemical substances thus making it a perfect and healthy material to put on throughout the day. Beat the bacteria and diseases with our ReSpimask and give a fresh start to a healthy life.
You can feel the difference with every breath
Nanofiber mechanical membrane provides the ReSpimask® unparalleled features. It can stop even the smallest dangerous particles without the necessity of being impregnated with chemical substances or silver. The membrane structure brings maximum protection while allowing excellent permeability. ReSpimask® effectiveness is boosted also by other details, such as its unique shape and adhesive stripe ensuring perfect adhesion and tightness.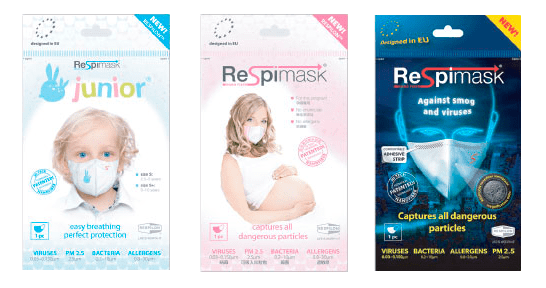 Practical and comfortable packaging
Start to protect yourself and your family from allergies and infections now! Use our e-shop or contact a local distributor to buy any model of ReSpimask® in practical packaging.