RESPILON® Scarf integrates a special nanofiber membrane which filters out 99.9% of all dangerous particles and microorganisms from the air. An embedded adjustable nose clip secures a perfect fit so that all air that is inhaled flows in through the nanofiber membrane. The Scarf is highly breathable while its filtration performance stays uncompromised. It is ideal for families with kids, in big cities, for allergy sufferers, for those with a weak immune system, cyclists, bikers, or skiers. Breathing is easy while you stay protected.
RESPILON® Scarf comes in four different sizes X-Small/Small, Medium and Large/X-Large, and in various colors, just use our sizing chart to choose the size that fits you best. Another difference is the material that the neck gaiter is made from—95% cotton and 5% elastane make it firm yet stretchable.
NEW FACE COVERING RULES FOR VIC
A face mask is always recommended, however, a fitted Snood, fitted Buff or fitted Gaiter is also allowed. The emphasis is on fitted, which means it must cover your nose and mouth. It must be secure around your neck and lower face with no gasps along the nose ridge or the top of the garment.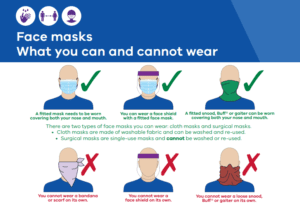 Source:  DHHS Victoria website
!!!EXPRESS  SHIPPING OPTIONS AVAILABLE NOW!!!