This limited edition of R-shield's exceptional design was created to support the Czech Cystic Fibrosis Association. R-shield Light for kids is lighter, more breathable, and is suitable for hot summer days and sports. Its special nanofiber layer captures 99.9% of all dangerous airborne particles and microorganisms while staying perfectly breathable. R-shield is the first form of respiratory protection without any fashion compromises.
NEW FACE COVERING RULES FOR VIC
A face mask is always recommended, however, a fitted Snood, fitted Buff or fitted Gaiter is also allowed. The emphasis is on fitted, which means it must cover your nose and mouth. It must be secure around your neck and lower face with no gasps along the nose ridge or the top of the garment.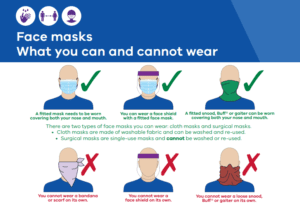 Source:  DHHS Victoria website
!!!EXPRESS  SHIPPING OPTIONS AVAILABLE NOW!!!